Water Filtration Systems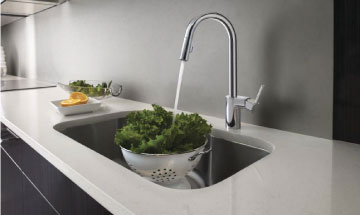 Maverick offers top quality water treatment and filter system installation for new and pre-existing homes. We work with top-of-the-line brands to offer high-end water filtration systems that provide crystal-clear water from your tap. Our team will work with your household-specific needs to provide industry-leading water treatment installation standards that consistently earn high customer ratings.
Depending on your home's water quality, your Maverick Mechanical professional will provide a thorough analysis of your water, assess your use and make recommendations. One or more systems may be needed to return your water to a pristine state.
Several kinds of water treatment devices are available but it is important to choose a water treatment system that will address your major water quality concerns. Match your filter to the dangerous contaminants regularly found in tap water such as lead, chloroform, arsenic, nitrate, and E. coli bacteria. Poor water quality connected to the main water supply line within your house can affect your skin, laundry, plumbing and appliances.
Explore some customizable filtration devices to treat problems at the source:
Point-of-entry filtration systems contain tanks installed where the water enters the home, providing you with cleaner, fresher water from every faucet
Point-of-use filtration systems are installed where the water is used and work to reduce foul impurities and keep your water fresh
Reverse osmosis systems incorporate additional purification treatments to improve the taste, odor and appearance of your water.
Water softeners are easy to install and help reduce biological contamination, sediment, sand and rust to ensure minimal build up inside water heaters, pipes, dishwashers and other appliances.
Take the guesswork out of water treatment by experiencing the convenience of water filtration systems. Get pure clean water for any use in your entire home.
Benefits of Water Treatment Applications
Extended life of appliances, fixtures and pipes
Easy cleaning and maintenance
Save on energy
Lower hard water scale
Eliminates stubborn soap and scum residue
Reduces chlorine odors and bitter taste
No water spots
Removes heavy sediment and fine dust
Reduced particles, imbalances, or contaminants in your water
Natural soft water
Chlorine-free water