Water Heater Inspection and Repair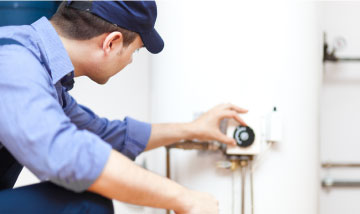 The licensed professionals at Maverick Mechanic can diagnose the problem with your water heater. It's time to consider an inspection if you are having any of these problems:
Less hot water or no hot water
Odor that resembles the smell of rotten eggs
Rumbling, popping or whining noises
Water leaks at the base of the water heater
The majority of leaks around the base of the water heater are caused by:
Faulty temperature and pressure relief valve
T&P valve leak caused by excessive pressure or overheating
Leak from nearby plumbing connection
Leaking water tank (corrosion)
You can trust the experts at Maverick Mechanical to make speedy repairs whenever possible and guide you through the process when repairs are no longer feasible.
Depending on the type and size of your home's hot water heater, there can be serious hazards involved in a repair if adequate and vital safety precautions are not taken. Don't risk your home, or your safety—call the pro's at Maverick Mechanical when it's time to repair or replace your home's existing hot water heater.